Encyclopedia
>
Town Český Krumlov
>
Buildings in the Historical Center of Český Krumlov
>
Kostelní Street
Kostelní No. 163
Description of the Building:
This three-storey building situated on a hill originates from 1892. The front was built according to the plans of Draxler from Vienna. It follows up with the building at Náměstí No. 6.
Architectural and Historical Development: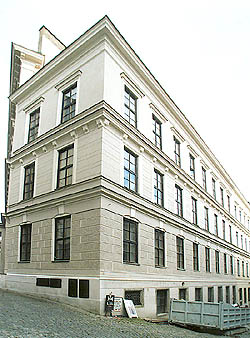 The house which was originally built in this place belonged to a tailor Šebestián Pundner before 1566. He was followed by a shoemaker Apolena Bartl. After several unknown owners, Ondřej Schuesslkorb moved there in 1612 followed four years later by a weaver Petr Paumhauer. In the years 1621 - 1630 Jindřich Göcz lived in the house, followed by Magdalena Schifflinger. From 1653 Jiří Schöbl is mentioned as the owner of the house, which was taken over by Marie Miller-Schöbl, who kept it to 1678. In 1710 a butcher Filip Hoyss bought the house from Vít Höfferle and his family lived there to 1737. The following owner of the house, Jan Bárta, was a butcher. In the years 1748 - 1770 a maltster František Matz and a weaver Jan Pinsker are mentioned in the house. From 1786 František Potz lived there and handed it down to his son František in 1806. In the years 1820 - 1828 a tailor Jan Franz and later Alois Fink owned the house.
Present Use:
Political parties ODA, KDÚ ČSL, Elementary art school, K - Centrum, ZDECO ltd., WC, Junák Č. Krumlov